Inlet Feed Diffuser
Nozzle Ø 12"nb
HDS Reactor Ø 2300mm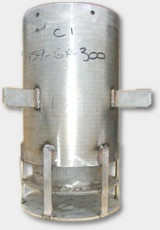 Inlet Feed Diffusers
An inlet feed diffuser is used to distribute the incoming vapour and liquid onto a distributor tray underneath.
Scale Basket
Wedge Wire Type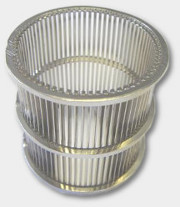 Scale Catching Trays / Baskets
Scale catching trays or baskets are used to prevent fouling material entering the catalyst bed. The scale baskets can be either mesh type or wedge wire type and are usually held in a frame or tied together with chains.
Catalyst Support Grid - Model 162
Wedge Wire Type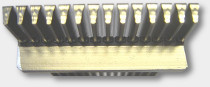 Catalyst Support Grid - Model 160
Lattice Bar + Perforated Screen Type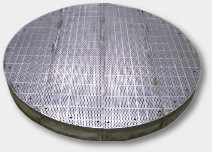 Catalyst Support Grids
For catalyst beds DtEC provides 3 types of support grids:
Lattice Bar + Perforated Screen Type
Lattice Bar + Mesh Screen Type
Wedge Wire Type
With the lattice type grids, for a given mechanical design load (including pressure drop) bars of an appropriate height and thickness on the required pitch are used. Typical grid height is 100 to 150mm. The perforation hole diameter and/or mesh size are selected taking into account the catalyst particle size.
The wedge wire grids are constructed from screen made from a series of parallel V profile wire welded to perpendicular support rods or bars.